Vulval Psoriasis
Below you will find a selection of clinical images portraying Psoriasis
1
Psoriasis
Erythematous, scaly, symmetrical plaques over medial thighs, crural folds, labia majora, mons pubis and lower abdominal fluid.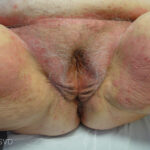 4
Vulval and Perianal Psoriasis
Well demarcated livid erythema involving entire vulva, extending to perianal area.
2
Flexural Psoriasis (Submammary)
Well demarcated area of erythema in submammary fold. The typical silvery scales of psoriasis are lost in flexural sites. There is a small fissure visible medially.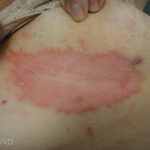 5
Scalp Psoriasis
The scalp is the most common site for psoriasis. Typical silvery scale can be seen on the background of erythema. Loose scales visible in hair.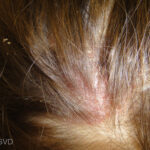 3
Perianal Psoriasis
Well demarcated erythema with slight scale at the edge extending around perianal area and perineum.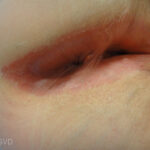 6
Vulval Psoriasis
Well demarcated erythema with scale over labia majora and mons pubis. Post inflammatory hypopigmentation is also visible particularly on the left labium majus.