Precancer
Below you will find a selection of clinical images portraying precancer
1
VIN
Asymmetrical lesion involving the labia majora and perineum with white and red patchy areas.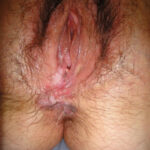 4
Paget's Disease
Well-demarcated red, scaly plaque on the vulva and perineum with irregular margins, weepy erosions with maceration. Biopsy may be required to exclude invasion.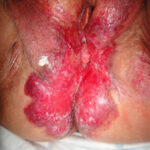 7
Paget's Disease
Extramammary Paget Disease with reddened patches affecting the perineum and peri-anal area before and after topic imiquimod.
5
Paget's Disease
Post-surgical appearance following total vulvectomy and radiotherapy. Persistent red scaly plaque with islands of hyperkeratosis.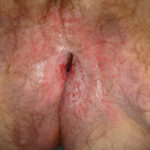 8
Paget's Disease
Scaly plaque affecting the labia majora with pink patches and hyperkeratosis. The redness is less prominent in pigmented skin.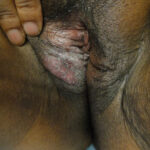 6
Paget's Disease
Red scaly plaque with hyperkeratosis affecting the labia majora and perianal areas.