Lichen Planus
Below you will find a selection of clinical images portraying Lichen Planus
3
Erosive LP with Scarring
Erosive LP is also known as mucosal LP which may be a better term as erosive LP is not always erosive. However, there are erosions in this case. There is considerable architectural change with midline fusion and blunting of the labia minora. Topical oestrogen should be considered as there is pallor below the clitoris which is typical of peri or post menopausal changes.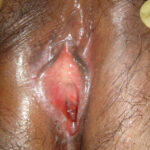 6
Mixed LP / LS
There are erosions around the introitus arising on a background of pallor typical of LS. Lichen Sclerosus may progress to Lichen Planus or the two conditions may present together. LS and LP may represent a spectrum of disease.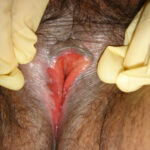 9
Nail LP
Extensive nail LP showing destruction of the nail plate and rough nails. Involvement of all 10 digits is the norm.